T0PGUNZ




Castle Owner

CASTLE SIEGE BATTLE STARTS IN
30

h

47

m

46

s
Greetings ZhyperMU Community!
The first release of the ZhyperMU News headline is now here for the month of June.
We also would like to acknowledge Ret for serving well as a Journalist Manager. He supervised, managed and put things on track that put this team in good foundation. Thank you Ret for everything!
Enjoy reading everyone and we hope for some more thrilling headlines on the next release.
Cheers!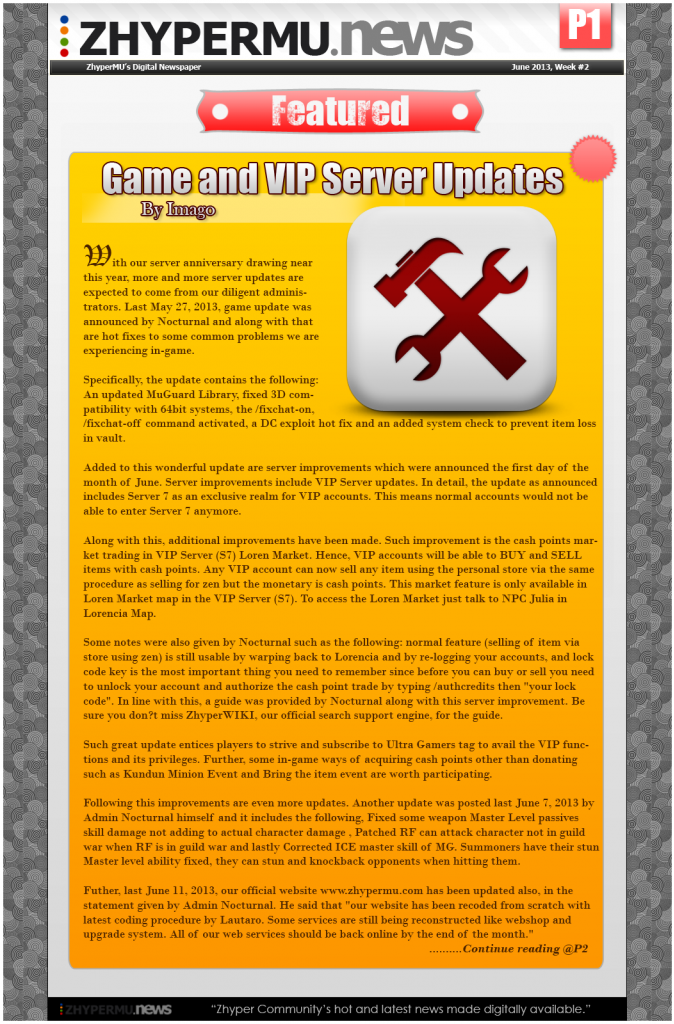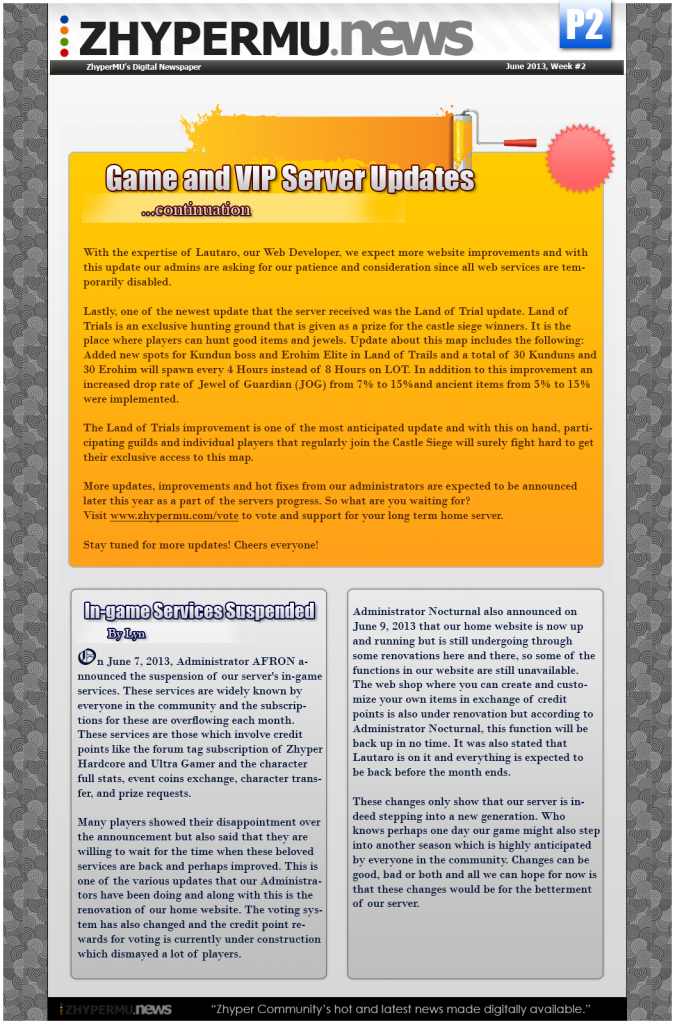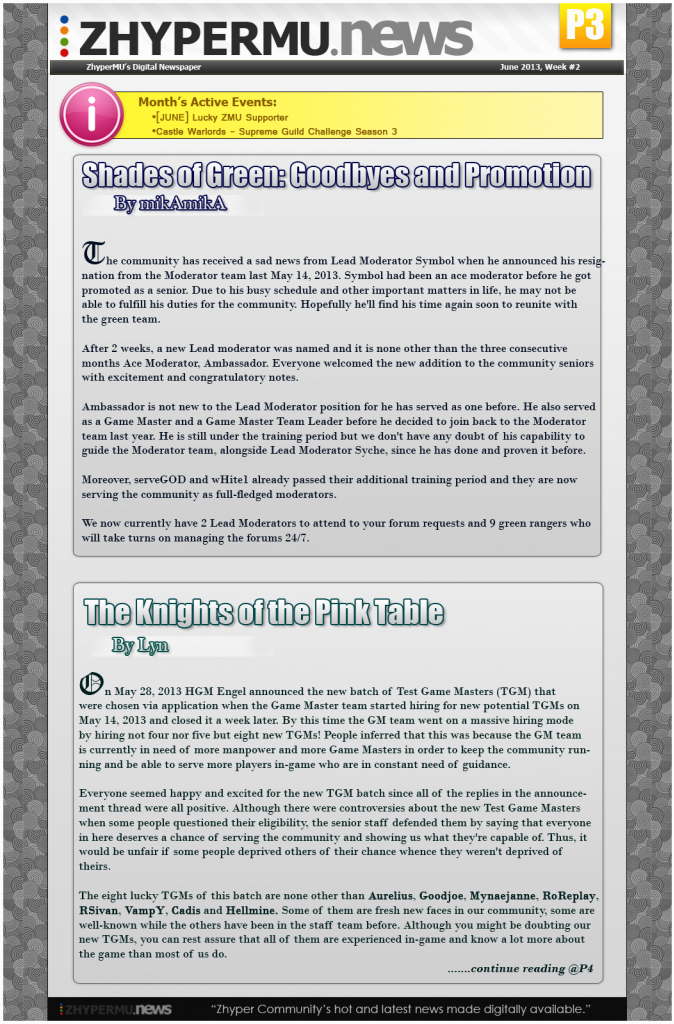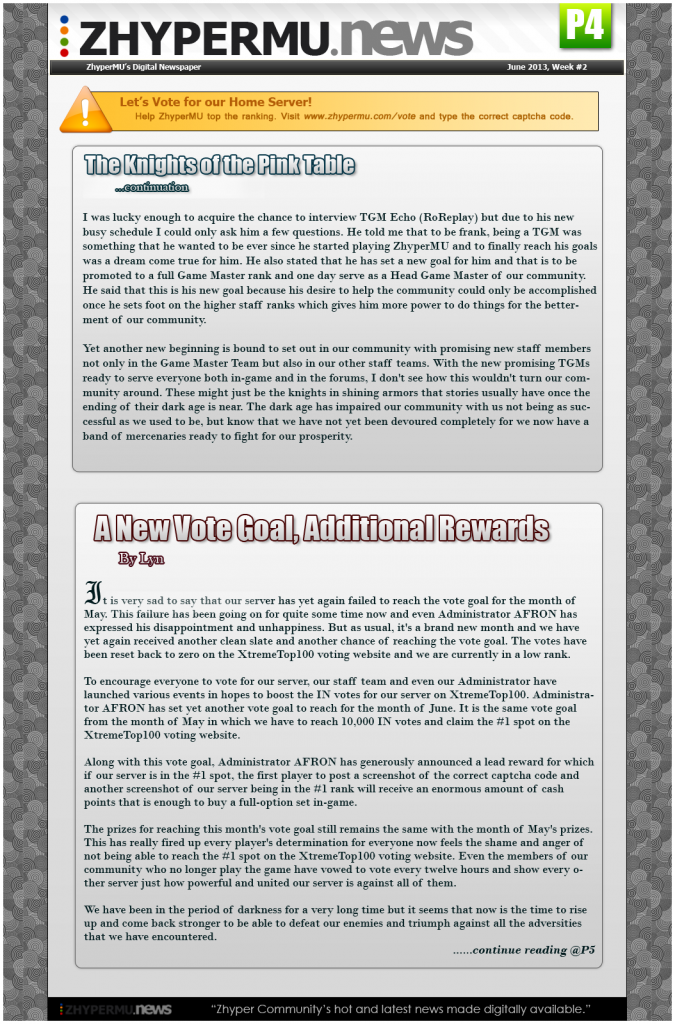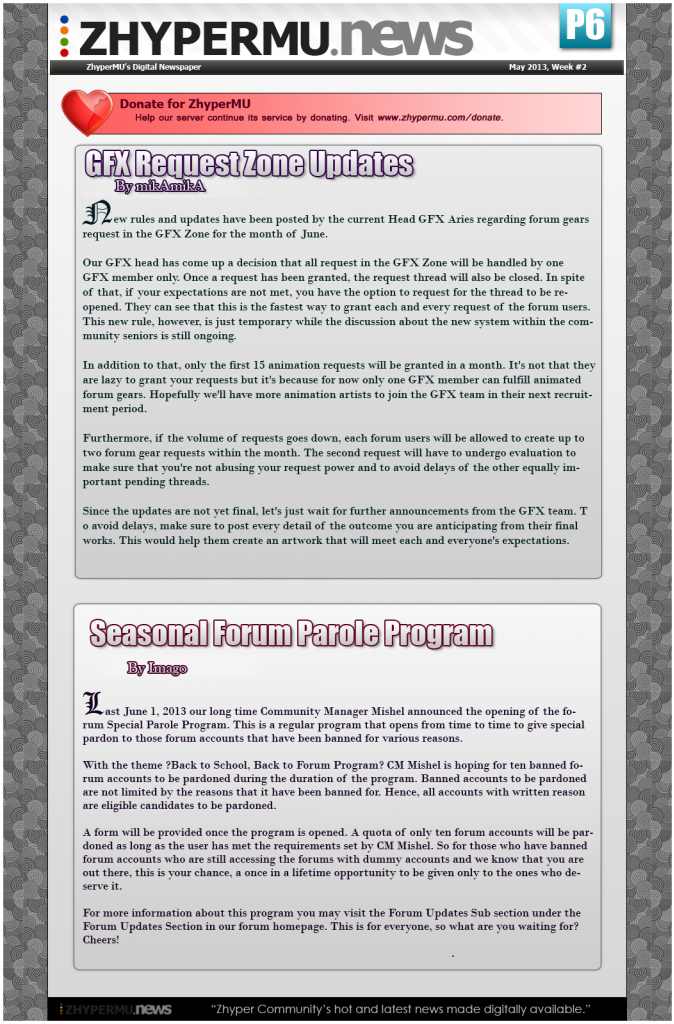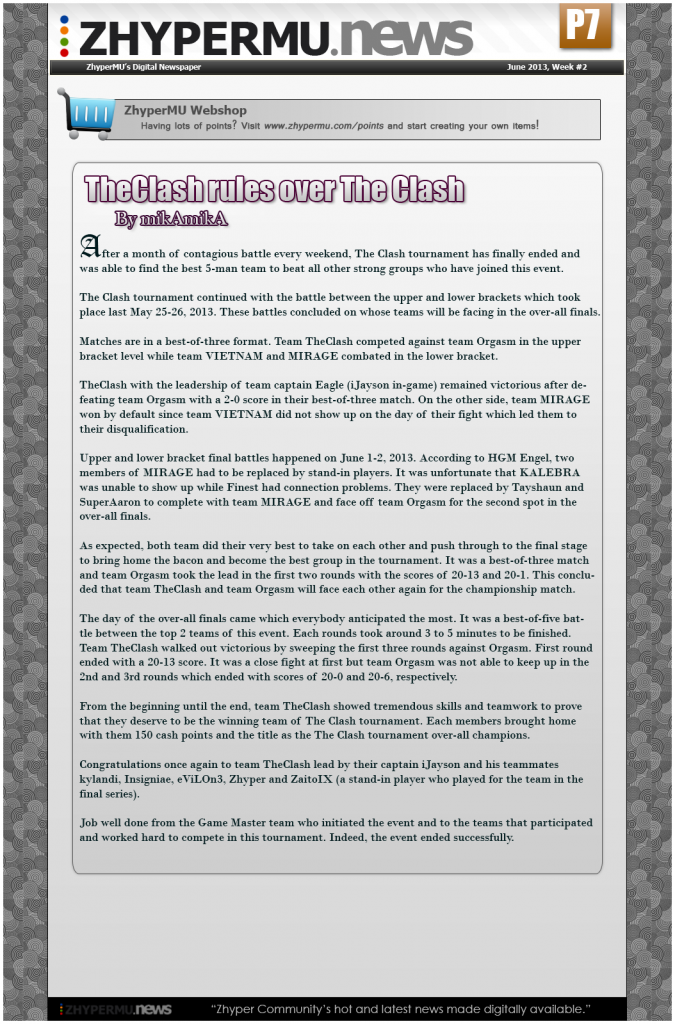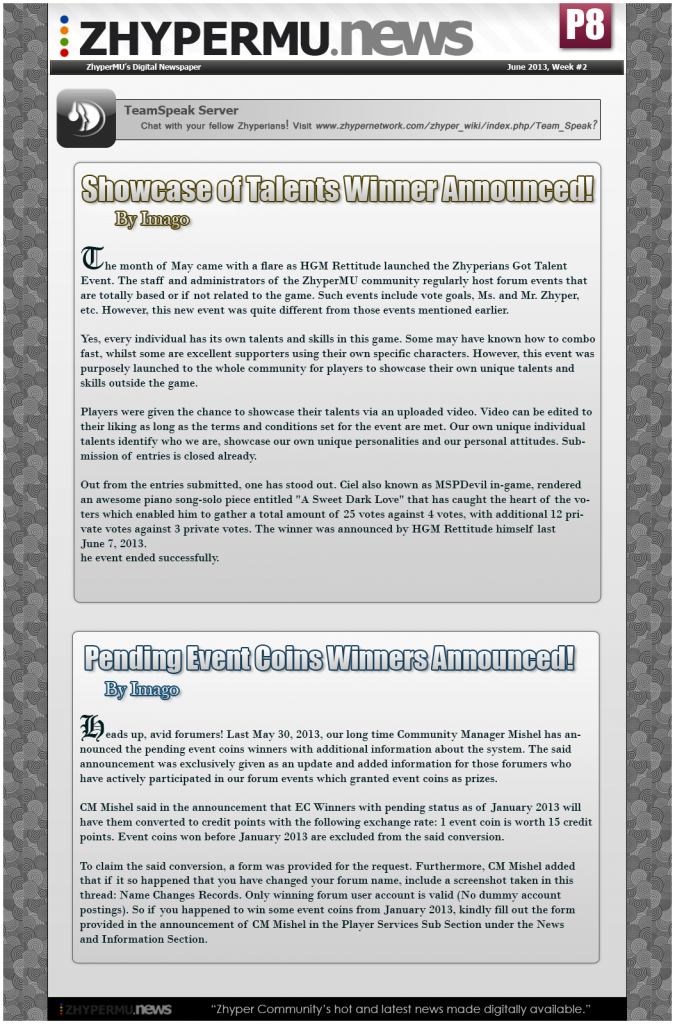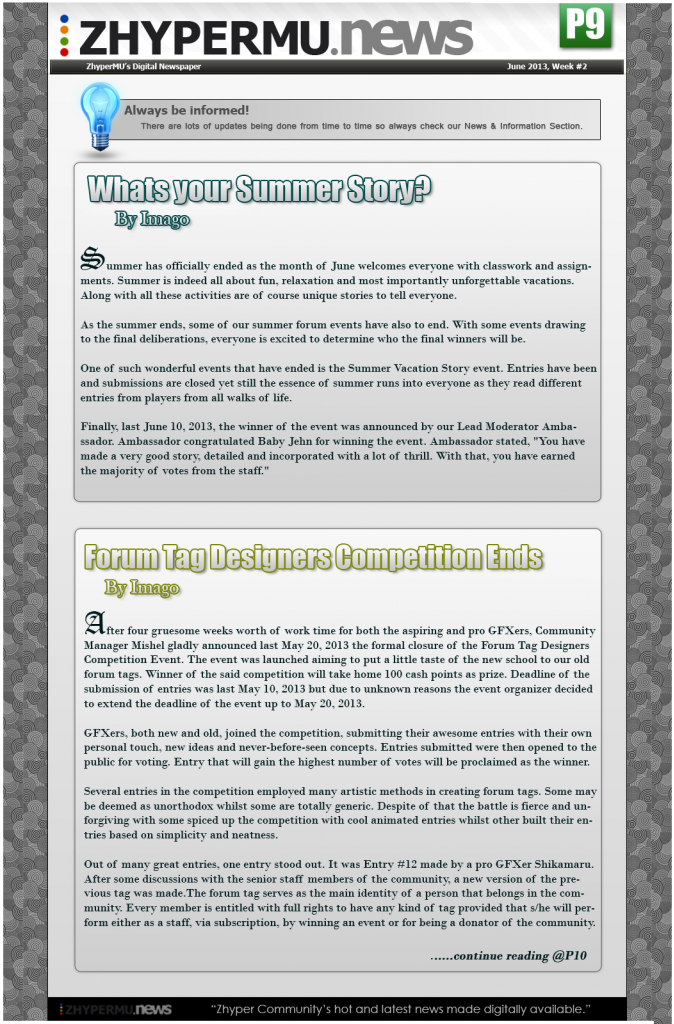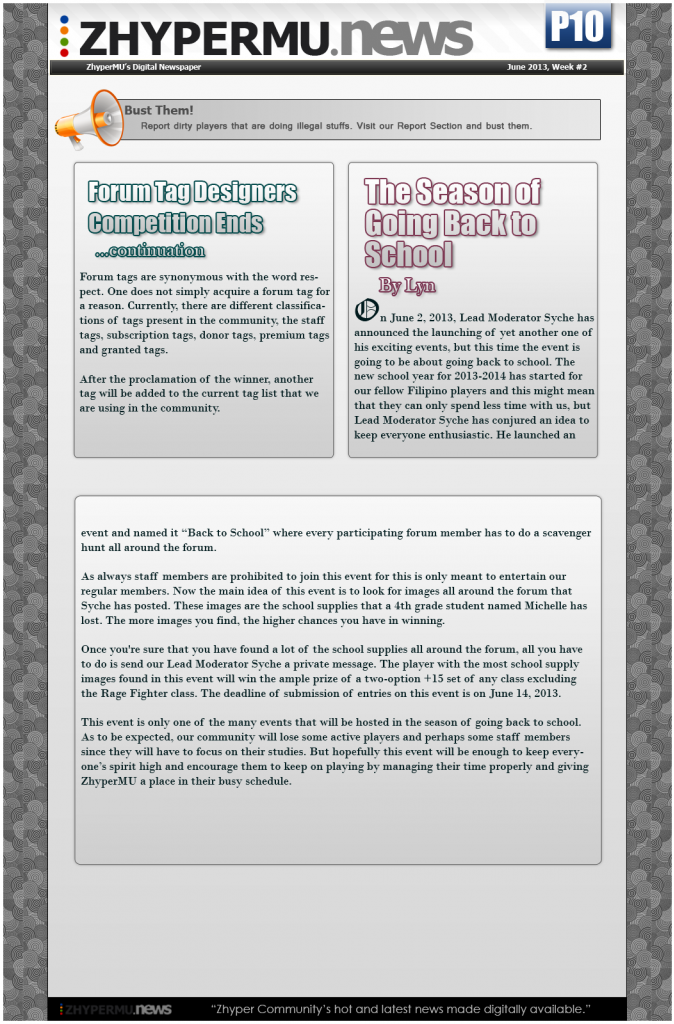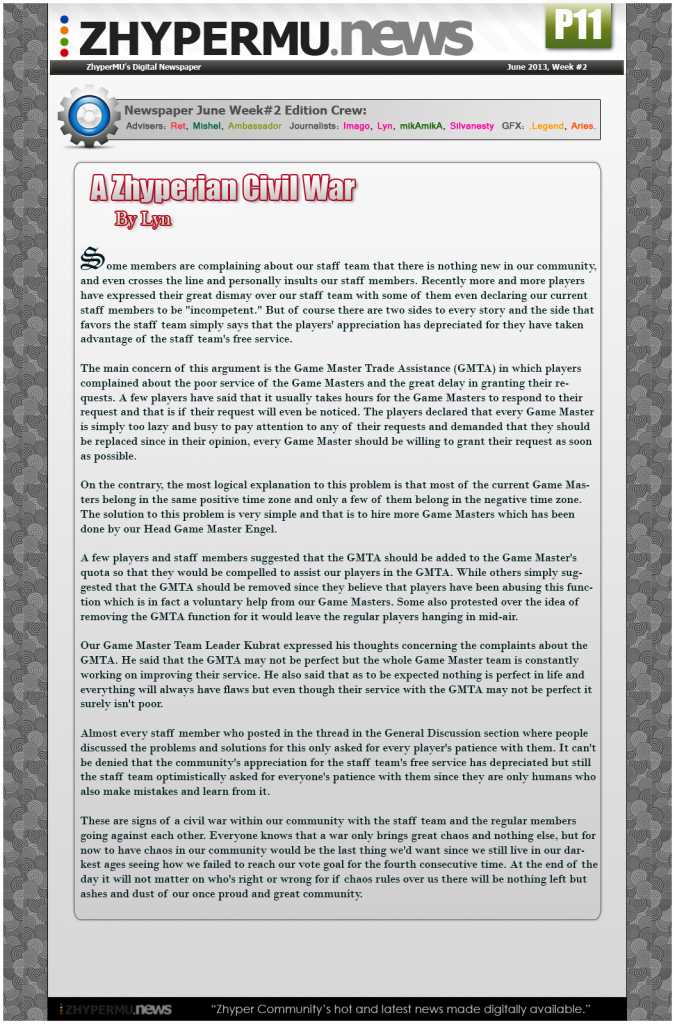 ZhyperMU Staff
Journalist Team
GFX Team
System Description:

This program will be open from time to time until a certain quota of forum account to be given a parole has been set. This is also to give them equal chance to show that they learned from their own mistake.

This system will be open in June 2013 with a theme of:
Back to School, Back to Forum Program


This program will be open including scope of banned cause and duration:
- Permanent Banned Duration (Excluding Fraud Donation Cases)
--- Accumulation of 20+ Infraction Points
--- Buying / Selling Account and Items (3opts to FO via forum transaction)
--- Illegal trading or Marketing
--- Advertising other websites involving easy money online
--- Evading Ban Account
- Applicants must be a banned member from May 2010 - December 2012


Quota of Forum Accounts to be lifted:
- Maximum 10 forum accounts


What are the requirements?
- Registered Email Address Used
- Link of Banned Announcement
- SS of account logged-in (must include banning notice)


Disqualifications:
- Incorrect email used information will deny the application.
- Incomplete application will be denied


Form:
*will be posted soon once the system is officially open.


Notes:
- Reason must be convincing enough for it will be grant.
- Banned Premium Holder applicants will never get back their premium tag but only a non-elite tag (registered & veteran tag)
- Being in the parole list means he/she will be observe based on his/her over-all forum behavior.
- You can apply once only. (Meaning if one application has been granted, future forum parole application for other forum account will not be acknowledge anymore)
- If you didn't make it to the quota, You can apply on the next seasonal forum parole program opening.
Please visit our forum for more information.

All the best,
ZMU Staff
Hello Everyone,


We would like to let you know that TeamSpeak Server is back. For first time user, you can download the application at http://www.teamspeak.com.


For full details and instructions, click the banner below

So get it now and talk to us.

You can use either the Hostname or the Server Address to connect.
Hostname: ts26.gameservers.com:9196
-OR-
Server Address: 199.167.19.50:9196
Channel: Zhyper Gaming Channel
Special thanks to uberwudi for giving us the opportunity to use his TeamSpeak Server.

Cheers !
Hello,
Well, again the goal is 10.000 Votes (if exceeds with 1k the rewards will increase)

The rewards are:

- Double GM daily events "first week"
- Double GM major events "first week"
- Extra 30 requests on Grand Reset
- 25% Discount on Zhyper hardcore "first week"
- 25% Discount on UserTitle "first week"
- 25% Discount on Postbit "first week"
- Extra 10 requests will be granted on Ultra Gamer
- First 10 requests will be granted "Account/Character reload"
- Major event will be hosted with prize Ultra Gamer tag 1 month "2 events"
- Major event will be hosted with prize Zhyper Hardcore tag 1 month "2 Events"
- Major event will be hosted with prize Forum hero tag 1 month "1 event"
- 3 opt items trade enabled for 3 days
- Gold pet trade enabled for 2 days
- Grand Credit points exchange to Cash points "first 10 requests" LINK

Lets do it this time guys, there are a lot of other new things coming out so soon.

Don't forget please to enter the right captcha code and vote HERE

Go,go,go